Right before Tayron and I left to go to the movies, the mailman came and gave us a nice big package containing this!
I don't have much to say on this yet, I just finished writing the post on the movie and haven't been able to do more than skim it, but here's one of my favorite pages so far.
Oracle of Ages Nayru concept art.
My love affair with the Zelda 'verse began with the Oracle of Ages. Same goes for my love of Nintendo, it all started with that game. Up until around my 15th or 16th birthday, I only really had a pc for gaming. We did have a gameboy, but it and the games we had for it were somebody else's. (It's complicated) I never had consoles to be nostalgic over these days, since the only experience I had with them were from a game here or there at a friend's house. I wasn't that interested in any of the games or consoles back then to tell the truth, I had a state of the art pc and most of the latest and coolest games for it at the time. Then the Christmas right after my birthday, I got a Gameboy Color. No games, just the system. Using some of the money I had gotten for the holiday, I went into the local EB Games store to look at games available to play. Out of all the new games there, Oracle of Ages caught my eye, looking like the most interesting game out of a seemingly boring lineup. So I bought it and took it home. About a week later I was back to buy Seasons, since I had so much fun playing through Ages. From there I moved on to other Nintendo games, getting into Pokemon as hard as Zelda, and lesser into Mario and Kirby, but still into Nintendo games.
So I'll be spending the rest of the evening reading this book and looking into it, but As a erson who loves the art of cosplay, I have to say the detail they show in the pictures is a great for helping with creating a cosplay from the Zelda universe.
On to the fun stuff. Here we have a mini collection of Zelda themed crafts and Etsy listings for your enjoyment.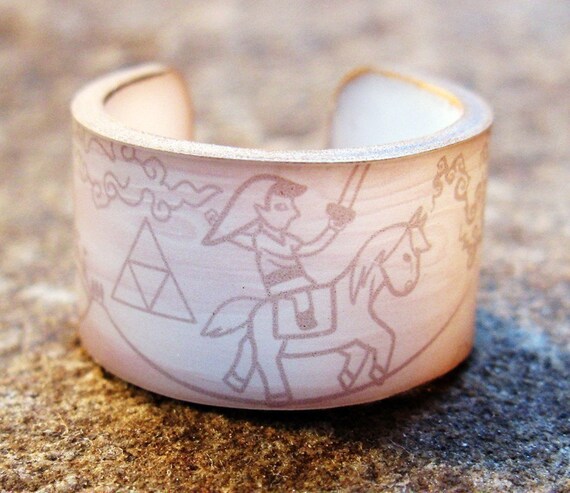 I like writing ideas and thoughts in little notebooks to create things with them later, this notebook inspires me to paint one of my own.
Hylian Notebook
from
YumeStyle
.