My local comic book shop, The Encounter, does a lot of fun things. Card game tournaments, board game night, and today I got to check out what they call their 'Starving Artist Convention,' where local artists all get together in the back room to sell their merchandise. There's usually a wide assortment of items, from artwork and comics to clay and perler beads. Due to work today I didn't get there until a bit before closing, and only 3 were left, but they were awesome.
First up was Chris from
Ninjas Don't Knit
. Funny comic, and at the shows he's usually selling perler/hama bead sprites. I acquired 2 super cute Lemmings magnets.
Next was Tiffany of
Tiffany's Shop
.Link takes you to her etsy store, she had quite a bit of it there, I picked up some tiny clay nail art pieces. Even though I work with clay, these millifiore pieces were just so tiny, I don't think I could ever work that small. Here's a picture from her shop to show how small these are.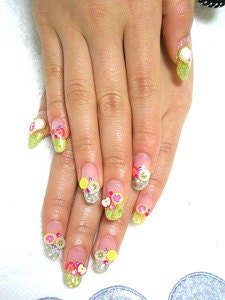 Lastly we had Mina from
Call Me Mina
(check out her blog, link in the name) and Michelle, a writer with a new book just out,
Worldpool
. Link will take you to where you can buy her book.
Mina has some fantastic artwork and prints available, I could only justify one thing, so I went for her book she had and got a doodle in the back of her cooking up some chicken, so cute! Below is a doodle posted on her blog, be sure to check it out.
Apparently many more artists were there that I didn't get to see, check out the Expo's facebook page to be notified of the next one.
https://www.facebook.com/LVStarvingArtistExpo